Intensive Program to Enhance Your Diplomatic Skills
Other Programs and Services
Intensive Program to Enhance Your Diplomatic Skills
Intensive program to explore Japanese "道 (do) " – the way.
See, feel and understand highly refined Japanese culture and the philosophy that underpins it.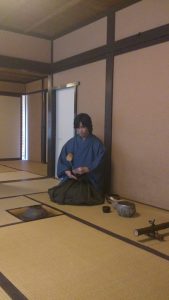 At OOPS Inc., we believe that a formal tea gathering "Chaji", the comprehensive function of Chado, includes all the necessary etiquette for learning the Japanese style of communication.
You can learn this program in Japanese, English or a combination of both.
The program in Japanese is designed for globally active Japanese students, technicians, and attendees to international conferences to enhance their diplomatic skills.
The program in English is focused on seeing, feeling, and understanding the Japanese way of thinking – "道 (Do) ".
■ Acquire knowledge of traditional culture
Learning Japanese traditional culture will be of great service to your diplomatic skills.
■ Refine the skills of Japanese style communication
Being a guest of "Chaji" will help you sharpen your sense of diplomacy.
The Japanese communication style is said to be unique. One of the key factors for this is because Japan had a foreign policy of national isolation for three centuries until the 1870s. During that time Japanese people developed their own communication style through their unique culture and philosophy. Thus, learning traditional culture is the best way to understand the Japanese way of thinking.
In this two-day program, we introduce the comprehensive Japanese art of "Chaji", a formal tea gathering.
If you are unable to attend two days in a row, please consult us.
 
・Program fee: 80,000 JPY per guest. (Tax excluded.)
・A group discount is available for groups of two or more.
・Includes – Accommodation at OOPS's guesthouse for two nights. (The night prior to Day 1 and the night of Day 1.)
– Lunch for both days. (Dinner excluded. We will be happy to recommend fine dining restaurants in Kyoto.)
・Please inquire about availability for groups of five or more.
This program is not designed to acquire skills of "Chado", such as the procedures for making tea.
"Chaji" (full course tea function) is held in a Chashitsu or tea room to appreciate Japanese Kaiseki cuisine, Koicha (thick tea) and Usucha,(thin tea) according to the proper etiquette of Chado. The whole function lasts four hours during which both host and guests try their at most to play their own roles in order to share an unreplicable occasion.
(Widely practiced Usucha (thin tea) takes only about 20 minutes, and it is in fact the most casual and last part of a formal "Chaji." Koicha (thick tea) is the main part in "Chaji". )
Program Overview
■ Chaji
Learn the outline, history and philosophy of Chado and the procedure of Chaji.
1st day – Learn Sekiiri*1, Tokohaiken*2, Chakuza*3, for Usucha.
2nd day – Experience a formal Chaji.
*1 Leaving your everyday life behind and entering the tea room.
*2 Taking a close view of the hanging scroll that represents the theme of the tea gathering.
*3 Sitting down in a proper guest's place.
■ Kodo
Experience Monko (The way of incense).
Kodo – Traditional Japanese art of appreciating a refined scent of incense.
■ Hyakunin-isshu
Experience Hyakunin-isshu.
Visit a Karuta museum or Omi Jingu Shrine known as a place where Hyakunin-isshu Karuta events are held.
Hyakunin-issu – A collection of one hundred Waka poems by one hundred poets.
Karuta – Traditional Japanese playing cards developed based on Hyakunin-issu.
■ Noh and Kyogen
Visit a Noh Theatre and Learn basic knowledge of "Noh and Kyogen."
Noh and Kyogen – A traditional Japanese play performed with classical costumes.
■ Japanese art viewed with the eyes of the world
Hear a lecture on Japanese art viewed from abroad based on study by Ernest Fenollosa, whose grave is in Mii-dera temple in Otsu city.
 
Send e-mail.